Sydney Harbour Bridge Cycleway Ramp Proposals
Alternative proposals for consideration by Transport for NSW:
Burton Street Tunnel elevated cycleway
Kirribilli cycleway connection
Ennis–Tramway elevated cycleway to North Sydney
(and an alternative alternative proposal, the Bradfield Highway cycleway)
Latest Version:

1.1

Submitted by:

James Boyden, 27th of June, 2021
Download the full proposal document (PDF 7.7MB).
The latest version of this proposal is always available at: https://jboy.id.au/burton
There's also a Facebook page for sharing and public discussion: https://www.facebook.com/burton.street.cycleway
---
Abstract
This document proposes building new elevated cycleways to solve the current challenges of bicycle congestion & dangerous cycle ramps at the Northern end of the Harbour Bridge:
Burton Street Tunnel elevated cycleway in Milsons Point (map on Page 13)
Ennis–Tramway elevated cycleway to North Sydney (map on Page 15)
These two elevated cycleways will connect at a proposed Kirribilli cycleway connection on Ennis Rd, Kirribilli, a cul-de-sac that runs alongside the Cahill Expressway on the East. This is on the opposite side of Milsons Point to the Sydney Harbour Bridge cycleway, the existing ramp/stairs down to Burton St, and Bradfield Park North. There will be:
no cycleways obscuring the Milsons Point train station Western entrance;
no cycle ramps landing in Bradfield Park North or the bowling green.
These cycleways will be less disruptive of Milsons Point park-lands & community spaces than the Linear or Loop options. By carrying cyclists at an elevation, they will ensure that cyclists do not need to ride through pedestrian areas or community events like the Kirribilli Markets on Burton St. This is safer for pedestrians and more convenient for cyclists.
These two elevated cycleways will carry cyclists off the Sydney Harbour Bridge cycleway, through Burton Street Tunnel to Ennis Rd, and then to North Sydney via the unused North Sydney Tramway. The top priorities are: safety; no congestion; easy for all abilities. On these cycleways, cyclists will not need to queue at traffic lights or pedestrian crossings. They will not need to dodge pedestrians on shared paths, nor dodge speeding cars at the busy Lavender St round-about, nor pedal up-hill in front of buses on the Pacific Highway. These cycleways will provide a safe, uninterrupted connection to North Sydney.
This document will build a case, supported by maps & photos, for the proposed cycleways. It will show that the proposed elevated cycleways are both feasible and preferable to previous ramp options for cyclists & the Milsons Point community. These two cycleways will also make better use of under-utilised space in the Milsons Point / North Sydney area, such as the car-park under Cahill Expressway and the unused North Sydney Tramway.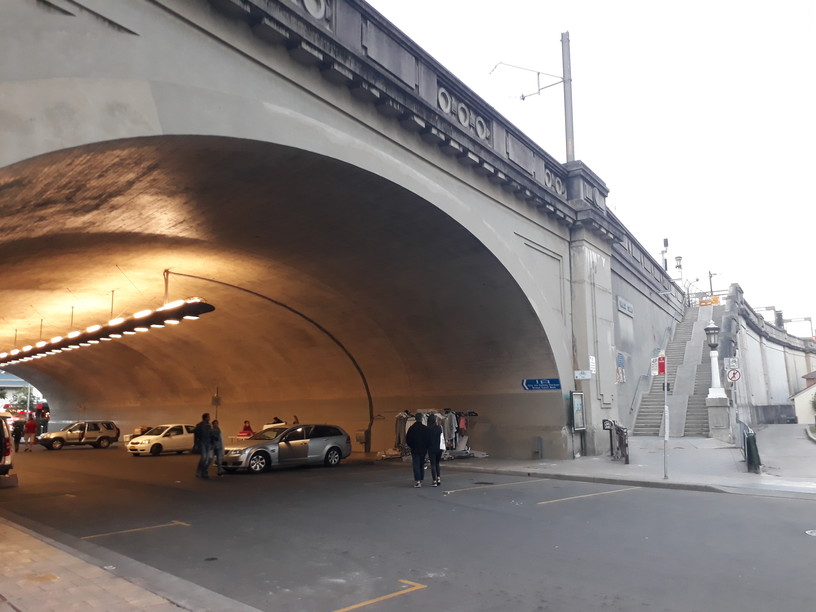 ---
Mini-posters
These mini-posters summarise the main points in a compact, convenient format. All text & diagrams in these mini-posters are taken directly from the proposal document.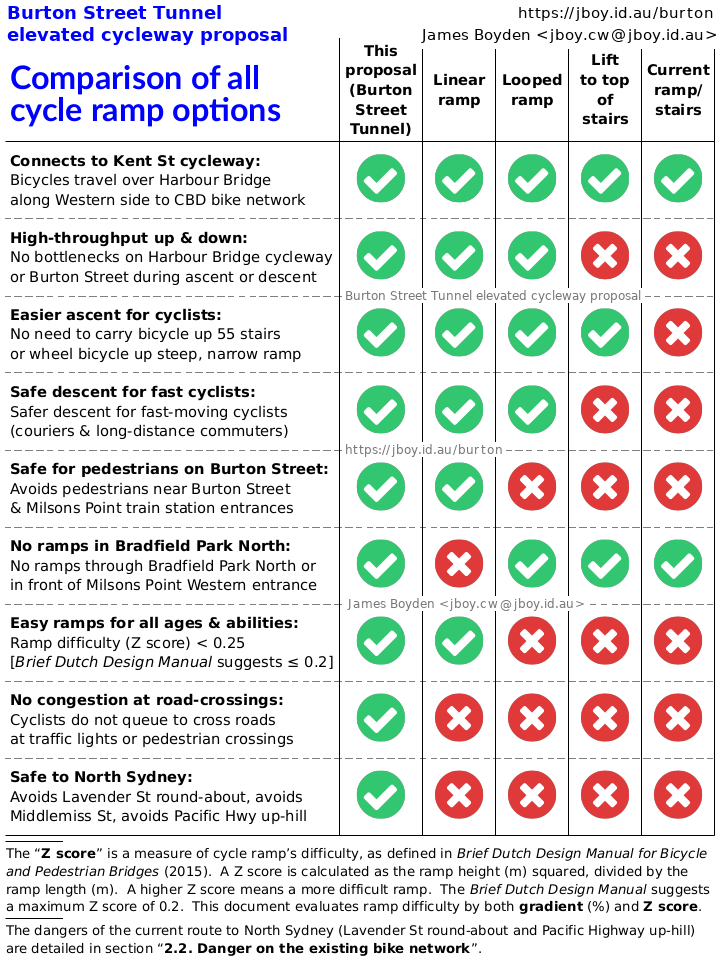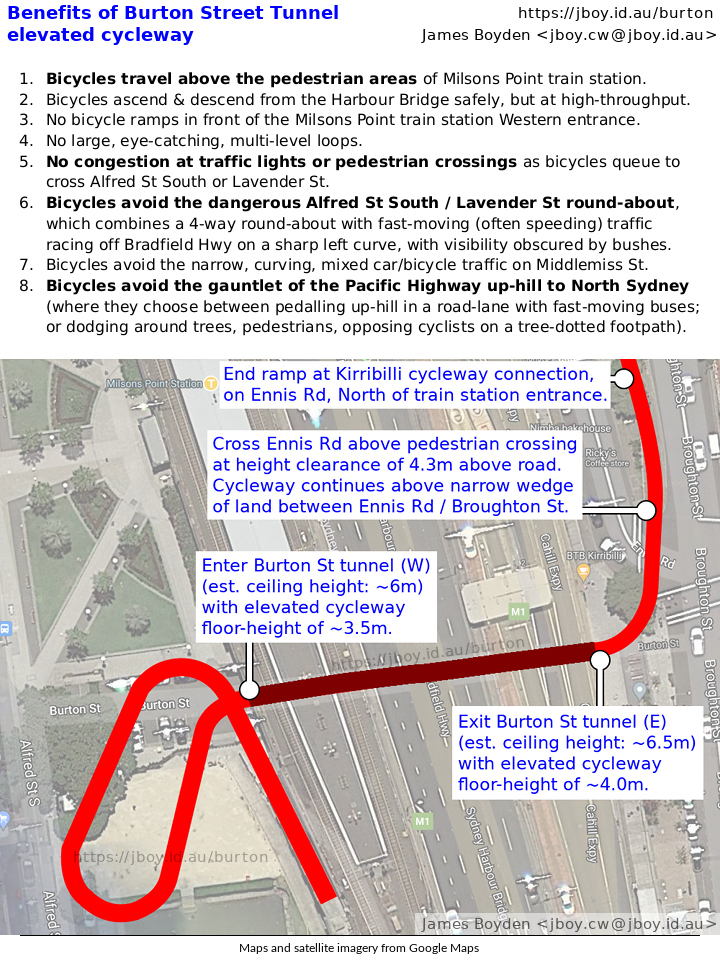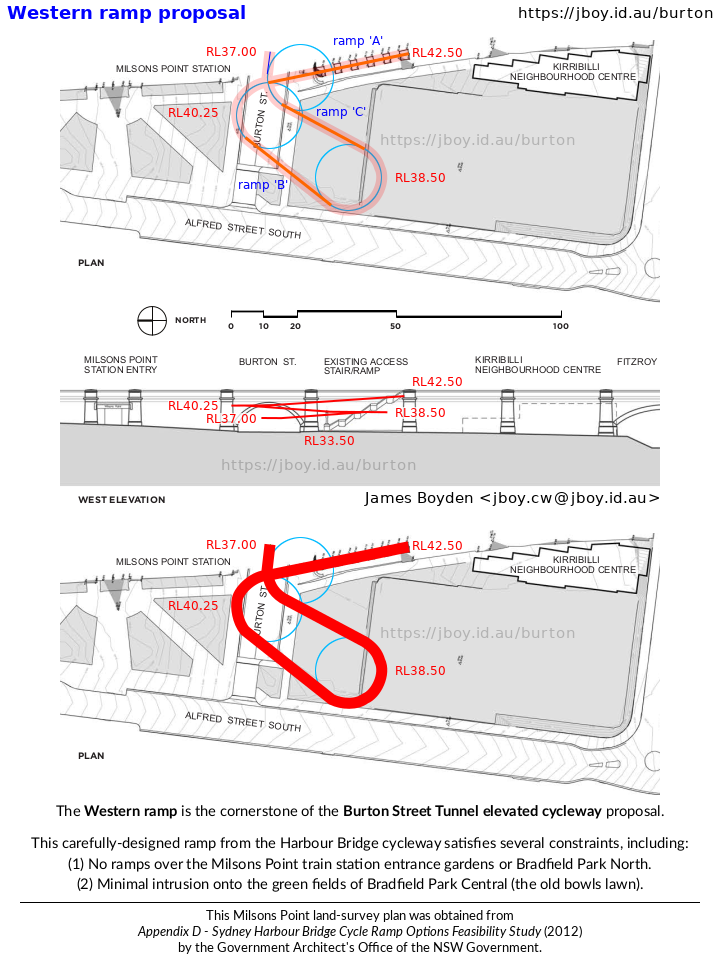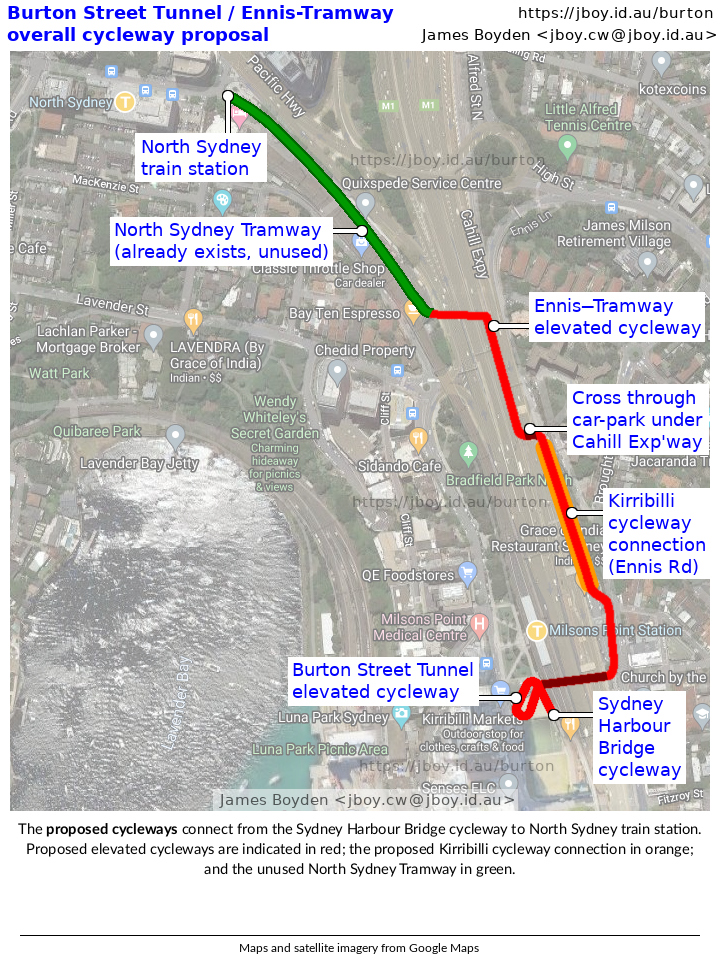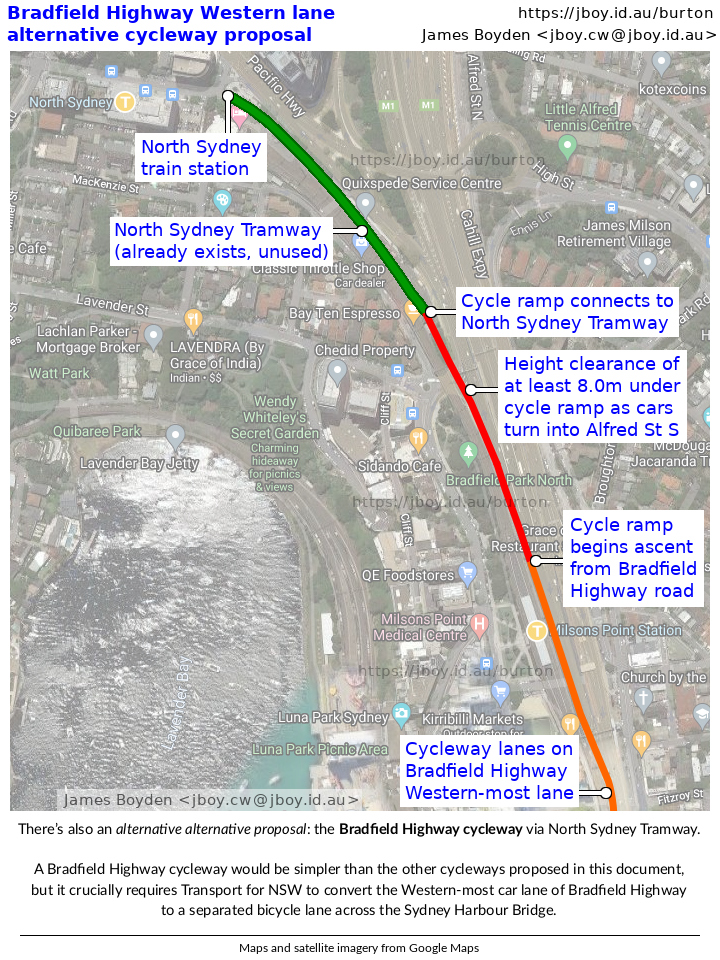 ---